Plastic Folding Tables & Trade Show Furniture | Portable Event Fixtures
---
Plastic Folding Tables & Trade Show Furniture - Versatile Economy Furnishings for Commercial, Hospitality or Residential Use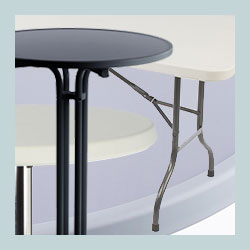 Where can you use plastic folding tables & trade show furniture? These versatile event furnishings combine commercial quality construction with economical materials and portable design to create accessories that will complement any number of environments or locations. Molded plastic folding tables & trade show furniture are available in a variety of sizes and styles that serve multiple purposes, transitioning easily from commercial banquet or party catering fixtures to booth furnishings at promotional events to restaurant or cocktail bar accessories. Enhanced usability features such as adjustable height, pneumatic seat lifts, and custom headers make these stands user friendly for both customers and staff. Plastic folding tables & trade show furniture, also known as portable event fixtures, are designed to be easy to set up and take down as well as comfortable to use for both patrons and set up crews.
What types of portable event fixtures are available?
30" wide rectangular and square plastic folding tables & trade show furniture are the "workhorses" of the display world. Available in either 6 or 8-foot lengths, these 30" tall furnishings feature a folding design that is easy to transport, store and set up. High quality construction in either HDPE (high density polyethylene) or ABS plastic makes these economy portable event fixtures ideal for frequent, heavy duty use in public settings as party dining or commercial banquet food service stations or as booth furnishings with custom-imprinted headers at promotional events.
Narrow-width buffet-style folding tables and furniture are available in 18" and 24" widths and can be set to heights ranging from 24" to 42" tall. This versatile style is particularly well suited to conferences or promotional events as it can be used as a cocktail-height banquette at a party, a booth fixture or a stand to hold merchandise or marketing materials. The portable design allows even the largest tradeshow tables to be easily taken down, transported and stored when not in use.
Round glass or molded plastic tradeshow tables & chairs come in a variety of materials and designs to match any environment. Durable portable event fixtures range from 27"- 47" in height and are available in steel or aluminum with a choice of MDF, durable molded plastic or tempered glass tops that combine economy with style. The elegant construction allows this type of adjustable height commercial banquet high boy to be used with or without table coverings. These furnishings are traditionally paired with pneumatic cocktail-height chairs as bar or commercial furniture, but are also ideal for use at promotional functions and as residential or private party furnishings.
Plastic tradeshow tables & chairs are easily configured to match the needs of any commercial, business or private function. In addition, we offer a number of cocktail sets with chairs as an economy solution that combines a tall portable high boy table with pneumatic adjustable-height chairs in molded ABS plastic, polyethylene or wood for maximum savings. The wide variety of styles and sizes allows this type of furniture, whether purchased singly or in sets, to fulfill a number of different functions as needed.