3-Sided/Open Back Table Covers for Promotional Events
Sorry, nothing is currently available here. More may be back in stock soon! For more details or help finding alternatives please contact us via phone or live chat during operating hours.
---
3-Sided/Open Back Table Covers - Custom Trade Show Throws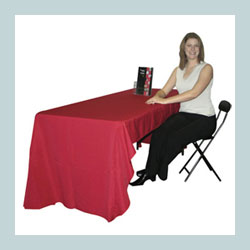 What display options are available at this website for 3-sided/open back table covers? These coverlets are sold in black, white, royal blue, and classic red. Purchase these 3-sided/open back table covers, such as trade show throw supplies for conventions, plain or with a full color display digitally imprinted on vinyl. The custom graphics supplied can usually be shipped in 24 hours! These affordable 3-sided/open back table covers, also known as trade show throw accessories, are worktable overlay supplies for selling on the road! Color graphics support your brand and reinforce messaging. This line of 3-sided/open back table covers with rear seating allowance in back blends style and function.
These open back table covers come in 6 ft. and 8 ft. lengths to suit both small and large venue types. Whether they are being used for a small showing or a large-scale convention, our trade show throw line for commercial use can meet any professional exhibition need. Choose plain blue, white, black, or red skirting or have a company color logo emblazoned in vinyl on the front panel. With custom accessories getting the message across is easy. This trade show throw, also known as a worktable overlay, creates a visual environment conducive to sales! Due to the unique three-sided design of these table covers with or without full color display, there is access through the back to samples, merchandise, catalogs, or more for seated staffers!
What are some of the noteable features of this affordable trade show throw line?
These 3-sided/open back table covers have lots of great features.
Sizing: Available in standard 6' and 8' lengths for different types of events!
Style: Plain, or full color custom graphics!
Quick-Ship: Ships in 24 hours for many items (even custom text imprint)!
Design: Skirt hangs over front and sides, allowing seating/access to supplies from the back!
What types of venues can this uniquely designed 3-sided/open back table sheathing be used in?
Banquets & Conventions: Dress up a non-descript business hall with professional looking draping!
Trade Shows: Coverlet provides access on one side to brochures, samples & supplies underneath!
Retail Showrooms & Agencies: Let no logo go unseen - custom graphics reinforce your brand and capture customer attention!
Display wares and company publications beautifully with a backdrop of 3-sided/open back table sheathing made of quality polyester. This skirting is easy to clean, but vinyl logos should be ironed face down only, or dry cleaned. Choose a plain backdrop, or create a full color display with a custom company logo! The open back table covers at this website for catered events like conventions and banquets are available in 6 ft. and 8 ft. sizing. Dress up a trade show booth with a quality worktable overlay that drapes over a console and transforms the decor!
This line of table covers is among an extensive supply professional supplies that dress up a booth or storefront. Our custom 3-sided/open back table sheathing packs a visual punch! Many of these console covers can be shipped in 24 hours. This company is #1 in the country for stand systems and display like these open back table covers! Call Customer Service during the week at 1-800-572-2194 to ask about 24-hour shipping!