Convertible Table Covers Transform from Draped to Fitted Throws
---
Convertible Table Covers - Versatile Hospitality or Trade Show Accessories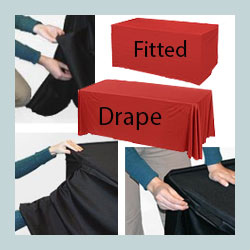 Have you considered convertible table covers for your hospitality, trade show or event needs? These versatile hospitality or promotional accessories have a unique design that allows the same throw to be used as a loose furniture drape on one size fixture and a fitted covering on a smaller size. Adjustable convertible table covers are perfect for use by companies that frequently attend events or trade shows, attend different types of functions, or who utilize multiple size furnishings. In addition, we offer these throws with a variety of different custom printing options, including a text-only vinyl imprint that can be turned around in 24 hours and offers a full color selection. In addition, these convertible table covers, also called convertible tablecloths, can be printed with heat transfer vinyl vector graphics, logos and text in a full color array to match any branding needs. This type of versatile display accessory is a perfect choice for companies and businesses that need affordable, high quality hospitality merchandise with (or without) customized text and logos.
How can businesses use convertible tablecloths?
Convertible table covers are designed to be compatible with two different size fixtures. On larger pieces they function as full-length loose drapes. However, Velcro® strips inside the throws hook together easily to gather excess fabric so that when used on smaller tables the drape becomes a full-length fitted cover.
Plain table covers without custom printed branding or advertising messages are ideal for use at social or business functions. Loose covers are perfect for fixtures where people will be sitting down or dining, and fitted coverings give a clean, sleek look to accessory tables holding food, supplies, merchandise and more. Adjustable accessories are an economical alternative to ordering multiple sizes to accommodate different size fixtures.
Many businesses use custom printed convertible tablecloths at promotional or other offsite events in addition to printed advertising or messaging signage. Branded accessories with imprinted logos, colors and messages allow customers and passers-by to easily recognize companies. By creating a unified brand image, companies present a professional image that attracts potential customers. Trade show booths, job fair tables, food, merchandise and wedding expos are all examples of promotional events with long rows of vendor tables. Having a custom imprinted drape or throw allows companies to be identifiable at a single glance. A full color spectrum of vinyl imprint materials can match any branding or color combination required.
The beauty of adjustable table coverings is that they function equally well in different situations. The same accessory can be used as a loose throw at one event and a fitted cover at another. Custom printed promotional covers can be imprinted with graphics and/or text in a full color selection of vinyl transfer material to match branding requirements. Each of these versatile function accessories can be used as a throw for dining or seating tables, a full-length drape, and a fitted cover for event fixtures, eliminating the need to purchase multiple covers in multiple sizes.