Table Toppers for Catered Events & Expos
Sorry, nothing is currently available here. More may be back in stock soon! For more details or help finding alternatives please contact us via phone or live chat during operating hours.
---
Table Toppers Come in (5) Colors & (2) Sizes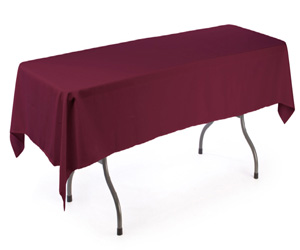 Why are these simple table toppers so popular with caterers and events staff? Each of these convertible display throws comes in a standard size for any occasion and they are super affordable, especially when purchased in bulk! This table topper system, also known as tablecloth linens are wrinkle-free, easy-to-clean fabric covers. Buy these catering solutions for the next convention, tradeshow, expo, or celebration! These quality table toppers in simple designs come in a variety of colors: black, white, ivory, burgundy, royal blue, and hunter green. This tablecloth linen, also known as polyester throws, are popular with caterers and tradeshow organizers.
What types of events benefit from the use of the tablecloth linen featured here?
Affordable polyster throws save money when bulk purchased for large conventions and seminars.
White and ivory coverlets stay fresh and elegant for weddings and hotel banquets.
Blue or hunter green fabric provides a classic backdrop for business meetings, expos, and tradeshows.
Black and burgundy fabric accentuates presentations during serious and meaningful occasions.
These topper overlays that are tablecloth linens are excellent solutions for events that require a company to stay within a budget. Due to our super-competitive pricing, purchasing from this line is like getting two items for the price of one! These table toppers, also known as tablecloth linens , are among our most popular overlays. Shop this website today! Many topper designs this nice cost twice as much! When purchasing quality tablecloth linens, also known as fabric covers, these toppers are perfect for special events.
What features set this table sheath apart from competitor cloths?
Beautiful: Five classic swatches suit any occasion and venue!
Durable: Polyester construction is virtually wrinkle-free and easy to maintain!
Adjustable: Velcro® tabs secure fabric when taken in to fit smaller tables!
Affordable: Products cost half as much as others on the market!
These tabletop overlays are available in two standard sizes: 54" x 96" (6 ft.) and 54" x 120" (8ft.) The table sheath makes a beautiful, low-key statement and can even be combined with one another! These toppers will fit virtually any size console for hotel banquets, conventions, work events, even weddings! These accessories are easy to adjust and downsize, due to attachments sewn right into the fabric. Panels on each side fold in and are fastened with Velcro® brand fasteners. This merchandise in larger sizes is great for keeping stored materials such as brochures, catering supplies, or personal items out of view!
Buy quality toppers like a furniture sheath in bulk for massive savings for your outfit! This covering is affordable, long lasting, with a crisp appearance due to the polyester material that keeps it wrinkle-free! Find high quality catering solutions like these toppers for conventions and special events at TableSkirts2Go.com! Known for being top in the industry for business displays (#1 in America!), this website offers all manner of hospitality merchandise, office, and store fixtures! Shop from our fully stocked, fast-ship merchandise by the thousands in our ready-to-ship warehouses. Retailers buy their favorite toppers here! Shop online, or call our customer care team at 1-800-572-2194, today! Call before 2 p.m. for same-day shipping for in-stock items.