Rectangular Tablecloths offer Full Length Sides in Multiple Fabric Color Choices
Sorry, nothing is currently available here. More may be back in stock soon! For more details or help finding alternatives please contact us via phone or live chat during operating hours.
---
Rectangular Table Covers with Full Length Sides offer High Visibility Graphics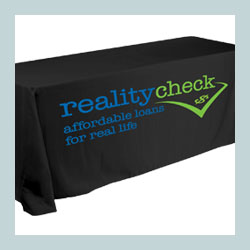 Why is it important to use these rectangular tablecloths with full length sides at events? These long table covers with rectangle shape are ideal for a party, wedding, banquet, or other event because they offer full coverage a finished look to what would otherwise be a plain table. These table linens are designed to be floor length on 6' or 8' table sizes and will easily hide decorations, extra literature, and other items underneath to be out-of-sight while still being easily reached by vendors or party planners. The rectangular tablecloths, also known as 4-sided table covers, are available in many colors or patterns, such as white, hunter green, or blue and white checkered. The elegant table treatments can also have custom text and images printed on them as an easy way to advertise your business or for pointing people to the right sign-in booth. These commercial quality full-length table linens are also great because of their durable nature. The washable polyester rectangular tablecloths are able to withstand frequent use traveling to many trade shows or at party after party.
What custom text and graphics options are available on these long tabletop cloths?
Rectangular tablecloths are sold with 3 different printing options available, but can also be purchased with no printing if desired.
Full-length covers are available with single color text that can be printed in an 18" high x 42" wide area. These tablecloths are also able to ship in 24 hours, making them great for last-minute events!
4-sided table linens are also available with custom graphics in one, two, or three colors printed on vinyl in an area that is 26" high x 68" or 72" wide, depending on the size of the cover.
Table coverings can also have full color images printed on a vinyl area that is 16" high x 40" wide. An added choice is available with the white cloths and that is to have either a 17" high x 50" wide printed front panel or a custom design on the entire tablecloth!
These rectangular linens are available in so many colors and with so many options they are sure to be an important part of any event. The table treatments without text or graphics are ideal to be used at formal functions, like a banquet, wedding, prom, and many other party-type gatherings. The affordable table linens with wording or images are perfect for so many occasions that it's impossible to name them all. Have a school logo, mascot, motto, or name imprinted on the rectangle covers for use at open houses, college fairs, or graduation ceremonies. Trade shows are another place where the oblong cloths with custom graphics are useful. Great your company name and branding across to potential customers without saying a word! Wherever the polyester fabric covers are used, they wear well and are designed to last as a money-saver to owners!