Custom Stretch Table Covers | Polyester-Spandex Blend
---
Custom Stretch Covers for Round and Rectangular Tables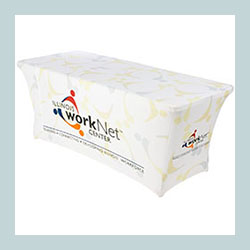 Looking for a way to advertise your company's emblem? These custom stretch table covers are great for any event like trade shows, exhibitions and banquets. Each fitted tablecloth comes with full color printing with a dye sublimation process that creates professional looking graphics. The custom stretch table covers, or logo printed linens, are ideal for any promotional text, image or combination because they allow users to submit a fully personalized design. Depending on the model, this can be printed all over the throw or just on the front. This type of custom stretch table cover is made for both rectangular and circular booths in different sizes.
What else makes these logo printed linens great for spreading brand recognition?
These custom stretch table covers will fit rectangular booths that measure 6' or 8' wide and create a taught fit. Alternatively, users can also order throws that fit circular stands that measure 47" tall and have a 27" diameter.
Each of the spandex table covers is made of a durable polyester blend that will fit snuggly on event furniture. This fabric is wrinkle resistant to keep promotional graphics recognizable and easy to read from a distance. In addition, some fitted tablecloths feature a zipper back for complete coveragep. Other throws with full color imprinting have an open back for storing supplies or for accommodating sitting exhibitors.
As previously mentioned, the fitted logo printed linens for trade shows come with different printing options. Some spandex table covers are white and feature a front area for graphics that measures 51" x 17". Models with full imprinting can be covered in full color advertisements and emblems that will catch attention from any angle. This can be used with a variety of promotional designs, such as a brand printed on the front surrounded by a repeating pattern.
Optionally, event booths can be purchased with an included personalized stretch table cover. These promotional kits include the same imprinting process and are simply more convenient for customers who also require the trade show furniture.
As with all merchandise found on TableSkirts2go.com, these logo printed linens ship fast. However, before an order can be shipped, users must submit their artwork using the template that can be found on each page. The fitted tablecloths are stocked 90% complete and only require this personalized image. This means there's only a 7-day lead time before an order is shipped, meaning exhibitors can get their table covers in time for a big event.