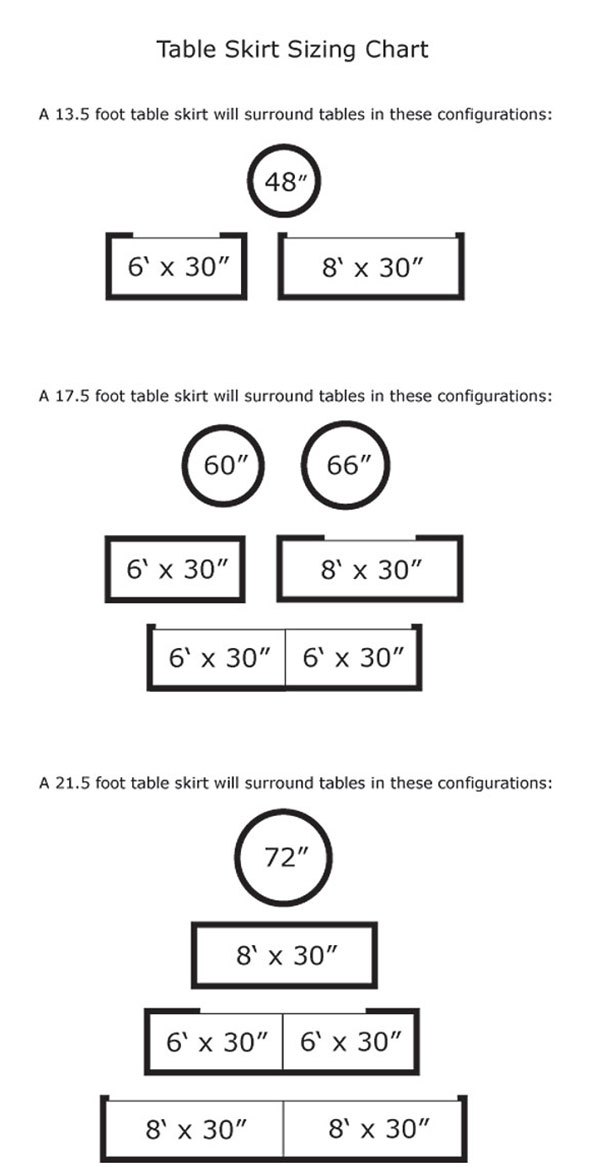 Sizing Details for Table Skirts, Cloths, Runners & Throws
Overview
Out table skirts are available in a large variety of styles. There are plain, rectangular covers that may be three or four sided. This plain style may be a simple tablecloth that drapes a table from top to floor. Or, it may be a stretch cover that gives a table a sleek, modern look. Standard skirt-style covers are also included in this category. These pleated skirt sets attach to the sides of the tables and are often used with the shorter tablecloths, those that do not reach to the floor but drape just 12" from the tabletop. Convertible models and runners round out this category. Runners are narrower throws that are accent pieces that lay in the central area of a table. These are usually a different color than the tablecloth displayed beneath, making runners a way to draw attention to a particular area of the table. Convertible models are made to fit two table sizes. These throws sit nicely on the larger size table, with the cloth draping to the floor. When converted to fit a smaller table, the sides are folded and drawn in, giving the display a more polished look.
Round Tablecloths
The round tablecloths drape to the floor. These throws are sold in many colors and are sized to fit 10' or 11' round tables. These round tablecloths are plain, but may be dressed up with overlays. The overlays are available in organza and satin. When placed on the table, overlays add a touch of elegance to banquet halls and ballrooms.
Custom Cloths
Tablecloths are also available with customization. These styles are printed with various messages that you provide our design department. Customization is usually used in just trade show venues, but may also be used in a banquet hall to display the name of the facility. As customization is a way to advertise a company or product, professional exhibitors find they are low cost marketing tools that get noticed everywhere they are exhibited.